How to Turn a Regular Balcony Into a Relaxing Paradise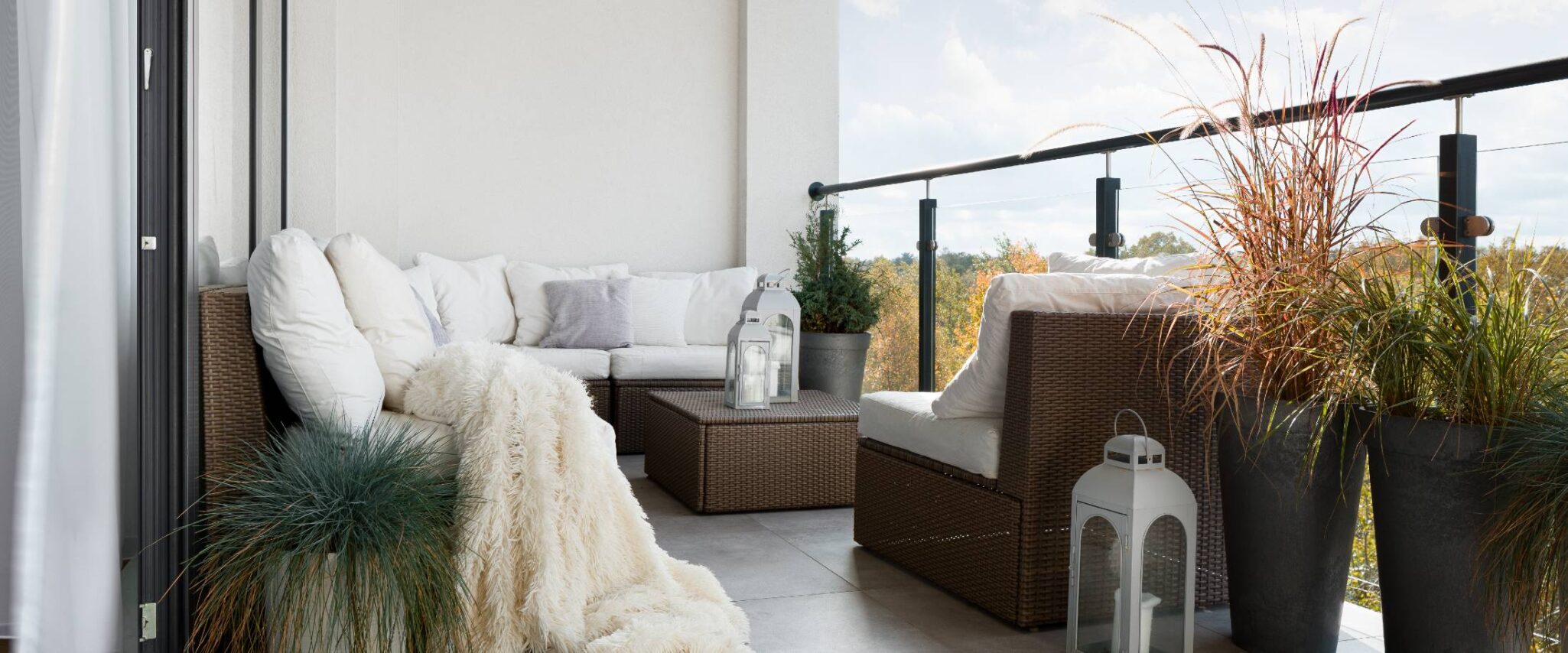 Transforming a balcony into your own private oasis doesn't have to be expensive or lavish. Keep it simple and enjoy the process of designing an outdoor space just for you. It's easy to do and expands your living space to the outdoors, allowing you to enjoy fresh air and sunshine in comfort and privacy. There are plenty of ways to create a relaxing balcony oasis. You owe it to yourself (and your family and friends) to do more than unfold a lawn chair and call it good. 
How to create a relaxing balcony oasis
Whether you love to relax and read, entertain guests, or watch the flowers grow, here are our favorite design ideas for your perfect outdoor nook:   
Minimize to Maximize
Balcony design requires furniture that does double duty. Depending on the size of your balcony, you may not need a traditional patio furniture set. Team a comfy chair with a storage bench along a wall. The bench eliminates the need for side tables as drinks and food can be placed on it, or it can be piled up with cushions or blankets for extra seating if needed. Folding tables and chairs are useful for entertaining and can be tucked away when not needed.    
Tea on the Porch
Turn your balcony into a "front porch." Layer a glider or outdoor couch with soft throws and comfy cushions, and add a side table and rug in coordinating colors. Arrange your favorite potted plants in a corner. Gauzy drapes that float in a breeze create a relaxing balcony mood. Now, put out sun tea to brew, and you're all set. 
Reading and Reflecting
Start with a weatherproof area rug in your favorite color, add a comfortable chair, and finally a table where you can set a beverage and a book. It can be as simple as that when you want to create a homey corner to call your own. If your balcony gets a lot of sun, invest in a screen or drapes to keep the area cool. If you'll be spending time outside at dusk, a small tabletop  gas fire pit or a string of outdoor lights adds ambiance and a sense of occasion. 
Raise the Bar
If you'd like to create a relaxing balcony for entertaining, why not add a small bar in a corner of the balcony? You could purchase matching bar stools or mix and match seating for a unique mood. Look for bar-themed décor, such as vintage posters or neon signs to attach to the walls. A tiki theme can be fun: add a thatch fringe to your bar, add home décor such as wall art and cushions in tropical colors, and colorful lights along the balcony rails. Some potted palms or tropical plants in hanging baskets bring in a touch of greenery and evoke island breezes.  
Green Thumb
Love gardening? Lightweight planter boxes can be attached to the wall, hung over the railing, or simply set on the floor. Choose planters that are easy to move around if necessary. Experiment with one tall plant, surrounded by others of different heights, colors and shapes, to create dimension and character. Attach hanging baskets to the ceiling or let flowering vines trail over your side of your balcony. Or dedicate your planters to vegetables and herbs for your kitchen. Keep your gardening tools and other supplies in a storage bench so they're within easy reach. 
Vacation Vibe
Retirement feels like the best vacation when you create a relaxing balcony for napping, suntanning and relaxing. Start with a great lounge chair or outdoor day bed you can stretch out on. Hang a hammock or sling one from a hammock stand instead. Choose colors and décor that remind you of your favorite vacation. We love crisp blue and white for a nautical theme, shells and bright prints for an Old  Florida theme, or a faux chandelier and mismatched furniture for a shabby-chic look.Whether you choose a one-bedroom, two-bedroom or studio apartment, as a resident of Freedom Square, you'll have the luxury of a private lanai you can transform into an inviting refuge. Take a look at floor plans that offer the freedom of a maintenance-free lifestyle; no household chores, no home maintenance, and no limits on friendship and fun. Learn how you can make a home in our welcoming community by contacting us at 727-547-3729.