9 Tips for Downsizing into Senior Living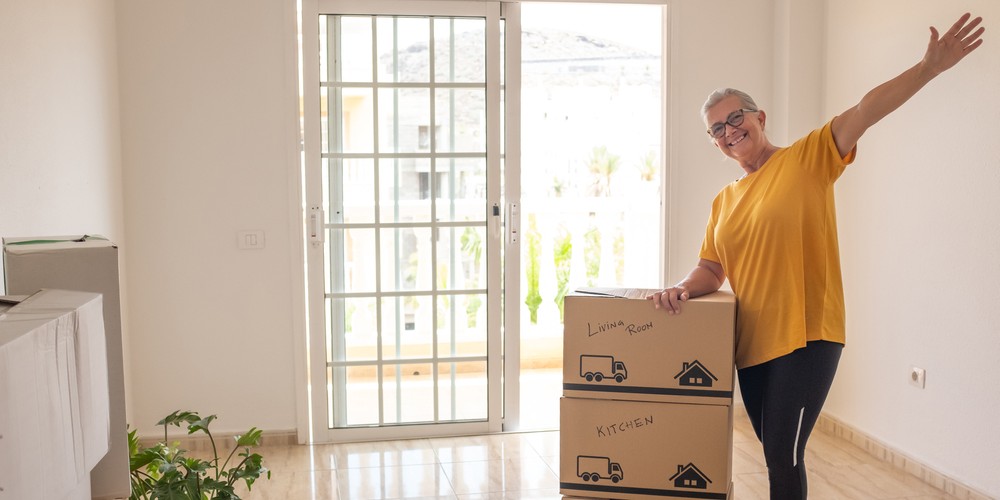 If the idea of downsizing your home sounds appealing, you're not alone. Downsizing is a major trend with older adults who are making the move into senior living communities. If you're ready to downsize your space and simplify your life, setting your strategy now can help you get there. You may even discover that moving to a smaller space opens the door to more happiness and fulfillment in retirement, with fewer chores, less worry, and more time to relax.
Although the steps involved in downsizing can feel like a chore, the results can be very rewarding. Here, we share some downsizing tips for seniors to help you streamline the process:
1. Give yourself time
If you're not in a rush to move, work through the process of downsizing at your own pace. You've been accumulating things in your home for many years, and it will probably take more than a few days to sort through them.
2. Break it down into smaller tasks 
Downsizing a home you've lived in for decades can be an overwhelming task. Instead of trying to do it all at once, identify smaller goals and focus your energy on one room or one closet at a time. Taking a measured approach to downsizing can help you build momentum room by room and make steady progress without burning out quickly.
3. Identify areas for quick wins
Perhaps you have some extra rooms in your current home that won't be part of your new living space, like an office or exercise room. These rooms are a great place to start, because you can easily identify the extra furniture and items that can be sold or donated.
4. Get creative with your collections
It can be hard to let go of your treasured collections, travel souvenirs and memorabilia. Take high-quality photos of the collectibles you decide to part with, then create a photo album to display alongside a few pieces you do keep.
5. Designate items to sell or donate
Online marketplaces like Craigslist or Facebook Marketplace provide a platform to sell, but if you have a significant number of things to sell, consider having a yard sale or hiring a firm to run an estate sale for you. Selling items can be a time-consuming process, so you may want to focus on selling high-value items only and donating the rest. You may find even greater satisfaction from donating items to an organization or person who needs them.
6. Ask for help
You don't have to go through this process by yourself. Asking friends or family members to assist can help you maintain objectivity and lighten the load both physically and emotionally. Together you can take a few moments to walk down memory lane and reminisce about old times.
7. Pass along family heirlooms
Sharing these special items with loved ones now can provide a wonderful opportunity to share the stories behind those pieces of family history.
8. Visualize your new space
Reviewing senior living floor plans can give you ideas for how to optimize your new space. If you know the dimensions of your new residence and have an estimate of the available storage and cabinet space, you can map out where things will go and label boxes and pieces of furniture accordingly. 
9. Focus on the upside of downsizing
There's a lot to gain by downsizing your home, especially when you consider the financial advantages and the freedom to focus on your passions in retirement. With less stuff weighing you down, you can build a life centered on having meaningful experiences and making new memories.
Find Your Perfect Fit
Ready to simplify your life and start enjoying the perks of senior living? You might not have to downsize as much as you think! At Freedom Square of Seminole, our independent living floor plans are beautifully designed with everything you need for a fulfilling retirement. Schedule a tour to see our spacious apartment homes and experience the luxury lifestyle of our independent living community.