Holiday Activities Families Can Do Remotely with Parents in Assisted Living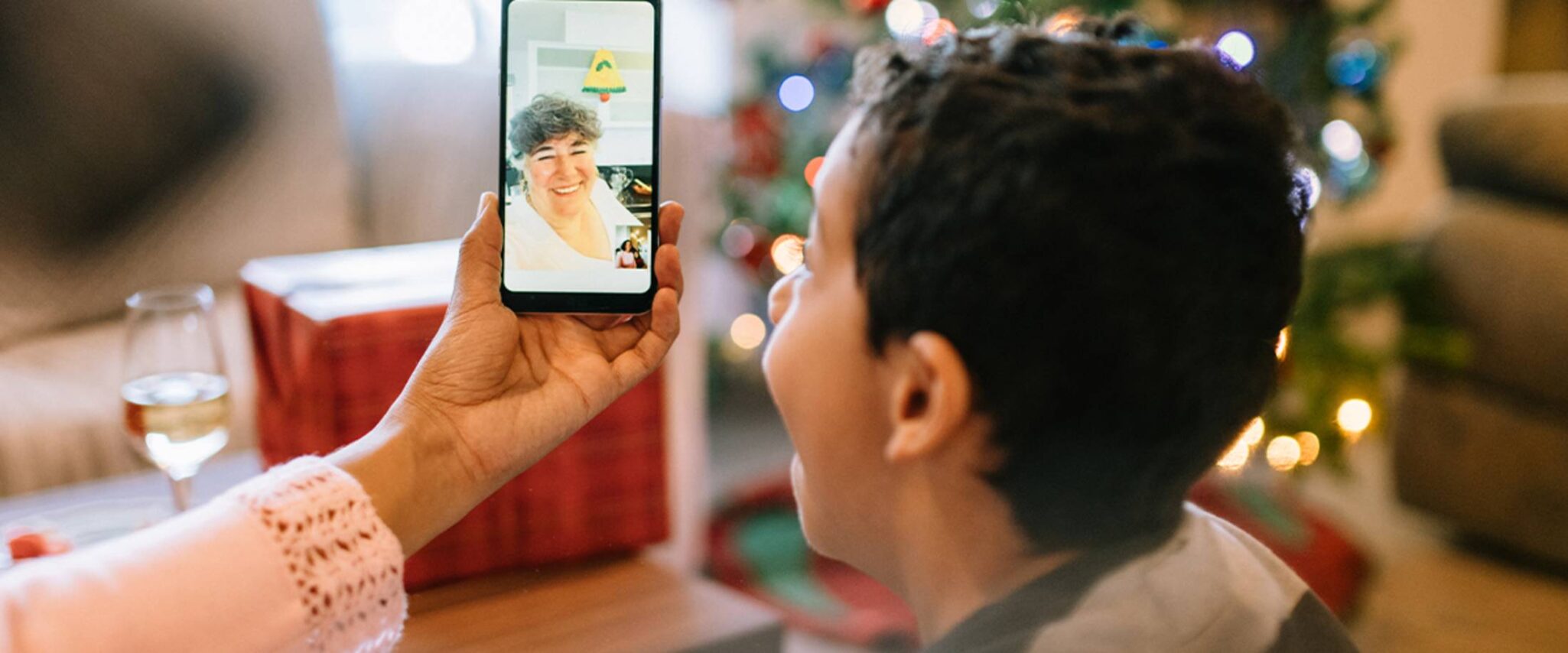 Whether hundreds of miles or circumstances keep you apart, it's not always possible to celebrate the holidays with a parent in assisted living. Fortunately, there are plenty of long-distance activities you can rely on to spread good holiday cheer even when you can't be there in person.These 12 ideas for holiday activities will let your family share laughter and joy with a loved one in an assisted living community during the most wonderful time of the year.
12 Ideas for Remote Holiday Activities
1. Holiday Cards
Holiday cards are a traditional way to check in with family and friends, but finding time to get them done can be a chore as the season grows busy. Check this holiday task of your list of to-dos and enjoy some quality time with family by hosting a virtual holiday card writing party. Schedule a time to bring the family together on a video call and set aside 30 minutes or an hour for everyone to hunker down and write holiday cards while chatting and catching up. The time will undoubtedly pass quickly, so it may take more than one session to get them all done. If your loved one in assisted living isn't up to the job, simply allowing them to see those smiling faces and perhaps asking them to tell stories about past holidays will give them a welcome chance to join in the family camaraderie.
2. Create a Family Video
Recruit the family member with the strongest tech skills to record, edit and share a family video. You might include segments with updates from each of your children, along with a personal message to Grandma or Grandpa. Invite your siblings to do the same, and send the videos to your loved one in a bundle or one at a time for a series of digital holiday cards they can watch again and again. If you have less tech-savvy older family members you'd like to include, just jump on a video platform like Zoom and record their messages on screen so their thoughtful sentiments can be captured, too. 
3. Video Chat
Harsh weather conditions and physical limitations can make it difficult for older adults to venture out for traditional holiday activities, even when they live nearby. Instead, you can take the experience to them in the comfort of their home. Video chat apps make it easy to take a loved one along virtually as you enjoy family activities during the holiday season. You might take in a tree lighting ceremony, tour your community's light display, or take Grandma along for a front-row seat to a beloved grandchild's holiday music concert. If a live call isn't practical, you can always record the long-distance activities to edit and share when timing is more convenient.
4. Seasonal Crafts
Crafts are a wonderful way to keep older adults' minds stimulated and hands busy during a time of year when loneliness can creep in. Purchase two sets of supplies for a seasonal craft project you both will enjoy, and mail one set to your parent at their assisted living community. Include a picture of what the finished project will look like, and arrange time to spend together on a phone or video call while you work on the craft project together.Keep dexterity in mind, and if necessary, complete any tedious steps ahead of time. A simple search online will give you dozens of ideas for simple ornaments, festive decorations and other seasonal crafts that you and your parent can proudly display as mementos of the time you spend together.
5. Digital Picture Frame
Digital picture frames are a wonderful way to help a loved one in assisted living hang on to treasured memories. In fact, many caregivers rely on the frames filled with familiar photos of loved ones to help soothe residents with dementia who grow agitated in the evenings when sundowners syndrome sets in. Some frames even allow you to make updates remotely so you can keep pictures up to date throughout the holiday season and share snapshots of special moments so your loved one is included as much as possible. 
6. Friendship Lamp
Ever have a fleeting thought of a loved one, smile to yourself and wonder if they're thinking of you, too? With a friendship lamp, it's easy to let a special someone know they're on your mind even from afar. The lamp pairs with another in a remote location, and when you touch your lamp, their lamp emits a colorful glow for a visual sign that you're together in spirit. Conversely, if your parent is feeling lonely this holiday season, they need only to touch their lamp to send you a gentle greeting.
7. Advent Calendar
An Advent calendar is a traditional way to count down the days to Christmas. The calendar contains a series of small openings or doors that hide treasures below, and you open a new space each day to reveal the surprise below. You can purchase calendars filled with everything from chocolate to wine, or even buy empty calendars and fill them with tiny gifts. Another option is a DIY photo advent calendar that you can make using poster board and family photos. First decide whether you'll count down the 12 Days of Christmas or go bigger, such as starting on Dec. 1 and going through Christmas Eve or Christmas Day. For each day, use a holiday-themed cookie cutter to trace a shape on the poster board. Number each shape, and cut around the outline, leaving a portion intact to create a flap that will fold open. Affix photos of family members behind each shape so they'll show through when the flap is opened. Number the flaps and add ribbons, glitter and other festive decorations for plenty of seasonal flair. Ship the calendar to your loved one as a gift they'll look forward to revisiting each day throughout the season.
8. Virtual Bedtime Story
There's a special magic quality that surrounds a Christmas story when it's told by a beloved Nana or Papa. Invite your parent to narrate a bedtime story to your little ones through a voice or video call. The holiday season extends for several weeks, so you could make your way through numerous stories by hosting weekly story time as one of those holiday activities the whole family can look forward to. Remember to record these moments and save them for your children to cherish when they're grown and carrying on family traditions with offspring of their own. 
9. Christmas Movies
Christmas movies are meant to be watched together, and there's no reason for distance to stop you from enjoying a good binge of the season's best. To share a viewing experience, you can use services like Kast or simply start a movie at the same time and put your phone on speaker mode to enjoy watching together and sharing commentary as the story line unfolds.
10. Holiday Baking
Holiday baking is among the best of holiday activities, and coming together in the kitchen is a bonding experience across the generations. Dig into your family cookbook to find the best baked goodies you recall from your own childhood and introduce your own kids to the joys of Christmas cookies, candies and more! Be sure to do plenty of sampling along the way and create packages of your finished products to tuck into care packages for your parent to enjoy and share with neighbors in their assisted living community. If you dare, add a little sibling rivalry and challenge your brothers and sisters to a bake-off! Start baking family favorite treats and mail them to each other, including Mom or Dad, of course. Tally the votes or let the eldest family member serve as the official judge. 
11. Presents
Enlist help from the extended family to assemble a large box of gifts to send to your loved one. Include thoughtful items of all sizes, such as a cozy sweatshirt representing a favorite sports team and practical items like toasty new socks in a favorite color. Designate one gift for each day of the holiday you're celebrating and let the older adult in your life revel in the childlike joy of opening presents. 
12. Long-Distance Activities
Talk with the caregivers in your parent's assisted living community to learn what holiday activities they have planned, and how you and your family can participate in any long-distance activities being organized for residents. They're also sure to lend a hand in helping you execute the ideas you have to make the holiday season special for your loved one.Sometimes all you need is a helping hand, and that's just what you'll get at Freedom Square, the community for premier assisted living in Seminole, FL. We'll help with all the basic activities of daily living — whatever you need, it's always your choice — including bathing, dressing and grooming, medication management, and personal maintenance.