The Ten Best Outdoor Activities Near Seminole, FL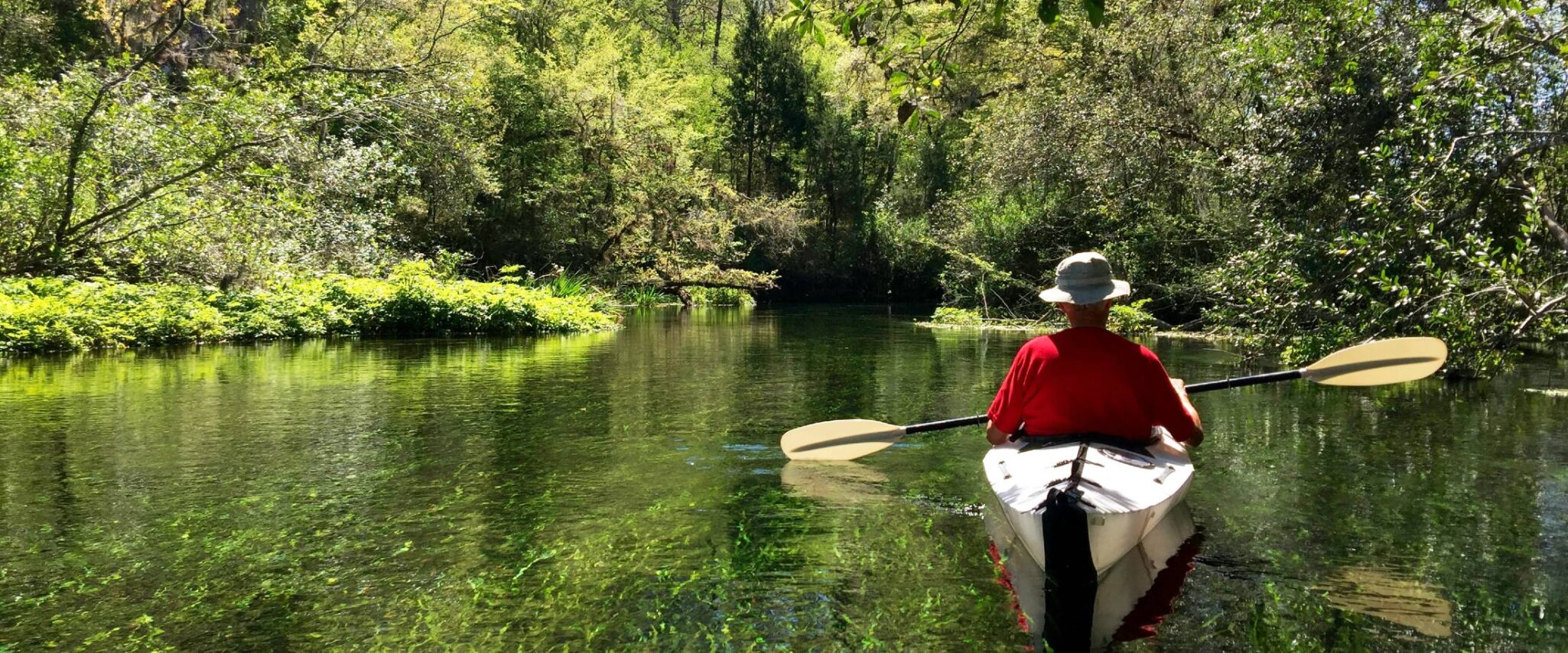 Discover the history, wildlife and natural beauty of Florida
Located just west of Tampa, nestled comfortably into Florida's central gulf coast, Seminole, Florida is full of natural beauty and teeming with life, making it the perfect home for seniors who enjoy outdoor activities. In fact, outdoor pursuits are among the most popular things to do in Seminole, FL, and you'll find abundant opportunities — like the ones listed below — to keep you active and inspired.
1 — Explore an abundance of parks
Seminole, FL offers several parks for enjoying a variety of outdoor recreational activities. Located near the city center, Walsingham Park is the largest and, arguably, the most popular. Covering 350 acres, Walsingham Park is a destination for outdoor activities with miles of multi-use trails, playgrounds, fitness stations, and a variety of natural habitats. But the centerpiece is Lake Walsingham, where visitors can fish and use the boat ramp to launch non-gasoline-powered boats.Lake Seminole Park, located on the eastern shore of Lake Seminole, features approximately two miles of nature trails, public boat ramp access and freshwater fishing, making it a popular destination for hikers, bikers, fishermen and kayakers. You'll also find shady picnic areas, making this park the perfect spot for a full-day family outing. Lake Seminole Park is wheelchair-accessible, and entry and parking are free.While smaller than Lake Seminole Park, McGough Nature Park makes up for its size with abundant amenities for outdoor activities including a canoe launch and The Narrows Environmental Education Center, known as the "Turtle Park." The center features birds of prey, trails through various habitats, a turtle pond and more. Just a 15-minute drive northwest of Seminole in Largo, Florida, McGough Nature Park makes for a great outing with grandchildren.
2 — Get hooked on deep-sea fishing
Whether you're a seasoned angler or just looking to try something new, it's easy to take a chartered deep-sea fishing trip via one of the handful of local crews who have the knowledge and experience to help any skill level reel in a sea bass, grouper, or snapper. They can be booked for a variety of trips that can range in time and duration to ensure a positive experience and maximum success.
3 — Sail the high seas on a dolphin-watching tour
If you want to get out on the water but catching fish isn't your thing, a dolphin-watching tour may be just right for you. Ranging from an hour to two hours, you'll glide through the waters of Florida's gulf coast, keeping your eyes peeled for bottlenose dolphins. This is the perfect activity for a sunny Florida afternoon, and it's sure to be a hit with both kids and adults.
4 — Discover Florida's marine life
If you'd rather stay on land, but still want to interact with Florida's amazing aquatic wildlife, Clearwater Marine Aquarium is the perfect place to visit. Located near Clearwater Beach, and just a 25-minute drive from Seminole, Clearwater Marine Aquarium is not your average aquarium. While boasting an impressive collection of various species of Florida's water-loving wildlife, it is also a rescue and rehabilitation center.
5 — Visit a bird sanctuary
For lovers of aquatic birds, Seaside Bird Sanctuary is a nonprofit organization that rescues and rehabilitates sick  seabirds, releasing them back into their natural habitats after they've healed. Open to the public, the 1.5-acre facility houses approximately 100 birds that are on display for educational purposes due to being ineligible for release. Visitors have the opportunity to view and interact with a number of different birds, from cormorants and pelicans to owls and macaws.
6 — Swing on over to Seminole Lake Country Club
For the active senior looking to stay on top of their game, Seminole Lake Country Club offers an 18-hole championship golf course and 13 har-tru tennis courts in an old-Florida environment. This impressive family-owned club boasts scenic views of Long Bayou and is a great destination to tee off any time.
7 — Travel back in time at Pinewood Cultural Park
Whether you're new to town or a long-time resident, there is plenty of history to be discovered. Pinewood Cultural Park's 20-acre Heritage Village provides an educational and interactive look into what life was like before modern development. The park is also home to the Florida Botanical Gardens.
8 — Stroll through the Florida Botanical Gardens
Open almost every day of the year, the Florida Botanical Gardens is located on over thirty acres of sprawling landscape with both cultivated and uncultivated areas. Paths wind through the park, leading visitors through themed sections, each of which offers a different experience. You'll make your way through tropical palms, across bridges overlooking calm streams, and past a veritable rainbow of flowers in carefully designed and planted gardens.
9 — Enjoy pristine Gulf Coast beaches
Florida's Gulf Coast is known for its pristine beaches and they're just a short drive away, making a beach trip one of the most popular things to do near Seminole, FL. Just to the north, you'll find the white sands and calm waters of Clearwater Beach — an ideal place to spend the day with or without grandkids.If you're looking for a new way to enjoy the coast, you'll find companies that offer horseback rides right on the beach. And don't worry if you're not an experienced horse person. Trained guides can lead you through a variety of landscapes from the beach to groomed trails, providing information on the area and the horses along the way. For a more private experience, try boarding a ferry to Caladesi State Park or Honeymoon Island, where you can take in fresh scenery and stroll the beaches of these remarkably pristine islands. It will be just the seclusion you're looking for.
10 — Observe manatees in the wild
When it's a little too cold for you to enjoy the beach, it's a good bet you'll find manatees heading for warmer, spring-fed waters. The best winter viewing is November through March, and you can find them in a number of places in the Tampa Bay region. The Florida Fish and Wildlife Conservation Commission offers a guide to manatee viewing on its website.When it comes to fun things to do in Seminole County, FL, there really is something for everyone. In addition to activities that are well-suited to active seniors, you'll also discover a variety of outdoor activities for kids, meaning that Seminole is not only a great place for senior living, but also a fun place for your adult children and grandchildren to visit.
When you live at Freedom Square of Seminole, our guest suites and private dining rooms are available to host your visiting family after a long day of exploration and fun. To learn more about the exceptional lifestyle waiting for you at Freedom Square, call us at 727-547-3315.