The Health Benefits of Swimming for Seniors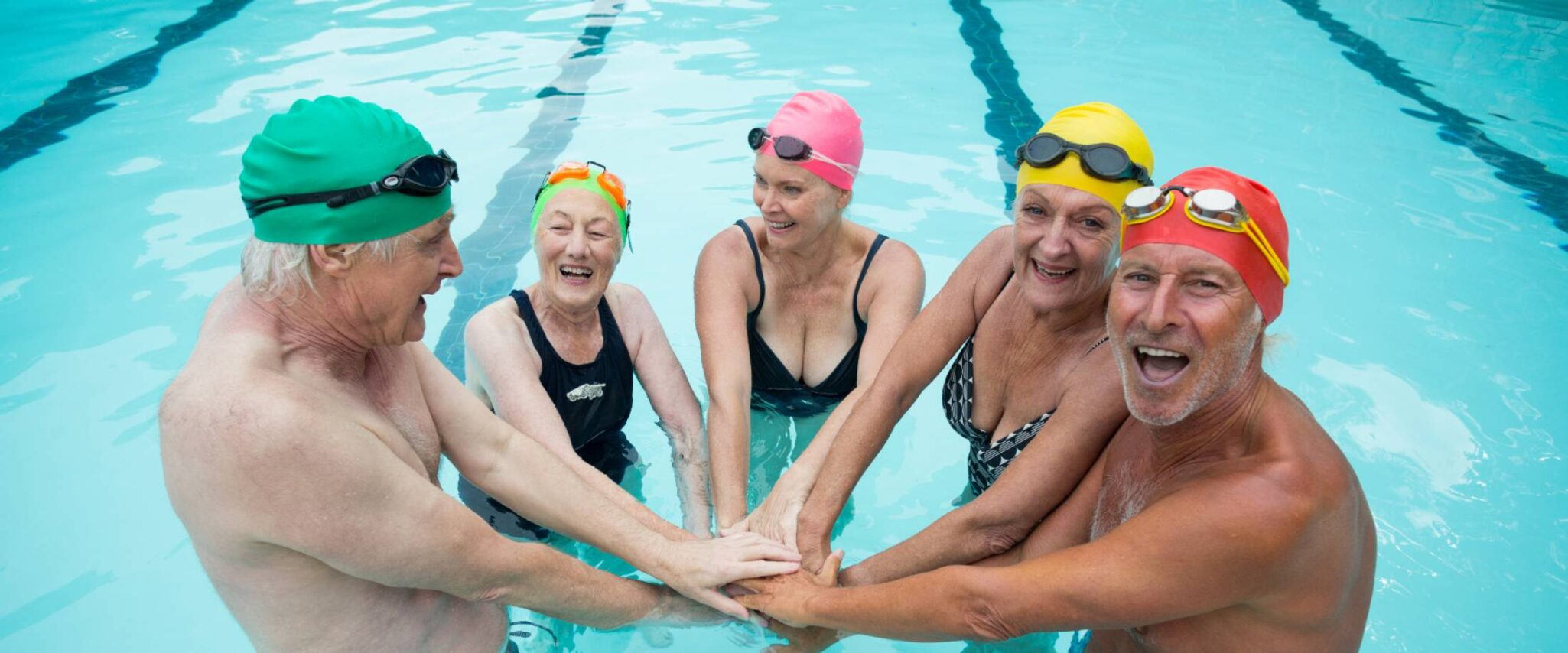 Swimming is among the top five most popular fitness activities in the USA. It's an activity that doesn't take long to do, can be done when you want to, and doesn't cost a lot of money. It's suitable for seniors of all ages and of all skill levels and ability. And of course, with an indoor heated pool, you can do it all year-round. 
There are other advantages to taking up swimming: 
It's a full-body workout. The health benefits of swimming are holistic. No matter what stroke you choose, you'll engage your core to keep upright and balanced, and all the muscles in your back as you kick your legs and move your arms. Your heart rate goes up, and as you moderate your breathing, you're building stamina and lung capacity. Your heart works harder to move blood around and regulate your core temperature. Inside and out, you're getting a full workout that is harder to get with just a single form of exercise on land.
It's a low-impact activity. Swimming is one of the few low-impact activities that can still be challenging. According to the American Council on Exercise, the buoyancy of water reduces your body weight by 90%, and only 10% of your weight needs to be supported by your joints. With less strain on your joints, there's less risk of injury.
It offers natural resistance training. Water's natural resistance is perfect for improving your strength. Simply pushing and pulling the water away from you is a form of strength training. There are also hand-held paddles or aquatic weights you can wear on your ankles to increase the resistance for an extra challenge. 
It's ideal for heat-sensitive individuals. If you tend to overheat quickly or find exercising in the heat uncomfortable, land exercise can be off-putting. Exercising while surrounded by water keeps your body cool. 
It can be done even if you're not a strong swimmer. You don't need to swim laps to participate in water exercise. Aquatic exercise classes are usually held in shallow or waist-high water where you can stand. If you aren't interested in a group class, you can still swim up and down the pool at your own pace supported by a kickboard. For your own safety, make sure there's a lifeguard on duty when you're in the pool. 
It can be done every day.  Swimming and aquatic exercise can be tiring, but they don't require the amount of recovery time that sports like weightlifting or running do. Many seniors swim every day with no ill effect.
Just add water
Exercising in the water offers the same health benefits as exercising on land: cardiovascular fitness, muscular strength and endurance, increased flexibility. But it's great for those who find movements on land jarring or even painful. In the pool, you're able to run, walk, jump, even dance. Because you're supported in the water, you can do flexibility exercises and move your joints through a range of motion that would be more difficult to do on land. Here are some other health benefits seniors love: 
Controls blood pressure
In a 10-week study, the blood pressure of patients with different stages of hypertension was examined. Even across this short time, the people who participated in regular water aerobic and swim training sessions reduced their overall blood pressure by 12 points. Controlling blood pressure can significantly reduce the long-term risk of heart disease.   
Lowers blood sugar
In another study, it was found that women who swam three times a week increased their insulin sensitivity and balanced their blood glucose, reducing their risk of diabetes. The research noted that they were able to do this in an effective and time-efficient way by swimming for a set amount of time, alternating bursts of high intensity with recovery periods in between. 
Reduces bad cholesterol
Cholesterol is produced naturally by the body and helps it function normally. Whether because of genetics or a rich diet, too high levels of cholesterol can lead to a narrowing of the arteries and increase the risk of a heart attack or stroke. The health benefits of swimming significantly reduce harmful types of cholesterol and raise good cholesterol levels in the blood. For every 1% increase of good cholesterol, the risk of heart disease drops by 3.5%. 
Reduces arthritis pain
Pool exercise is a good option for individuals with arthritis. The buoyancy of the water allows them to maintain fitness without putting more wear and tear on their joints or making their joint pain worse. In fact, it improved their muscle strength and reduced the pain they were feeling.   
Boosts metabolism
Swimming is recognized as one of the best calorie burners around. The exact number of calories you burn depends on your own physiology and the intensity with which you exercise.  But in general, a 155-pound person who is vigorously swimming laps for 30 minutes will burn more calories than someone jogging for the same amount of time. And they'll get the benefits of exercise without pounding their joints. 
Boosts mood
Swimming has psychological benefits in improving mood. One study shows it is especially beneficial for women, who said their negative moods like anxiety, tension and depression got better when participating in a swimming program. In another survey, people felt swimming was the ideal "feel-good" exercise, with over two-thirds saying it can have a positive mental effect while helping them release stress and feel better about themselves.  
What to look out for during a water exercise class
A good class should include a warmup, exercises that gradually increase and then decrease in intensity, and a cool-down. The cool-down should include some flexibility or stretching movements. Your instructor should be certified in teaching aquatic classes and have the proper safety or lifesaving qualifications.During class, it's important to pay attention to how you feel. Your heart rate will be lower when compared to land exercise, but even if it isn't beating as fast, you're actually exercising intensely. And you may not feel like you're sweating, but you are. Make sure you're well hydrated before class starts, and bring a bottle of drinking water to sip during breaks.  Interested in water exercise classes at Freedom Square? Dive into our indoor heated pool! Just contact us, and we'll gladly let you try out our independent living lifestyle. In the meantime, check out these fitness routines you can do at home. Here's a list of 15 easy chair exercises and our intro to tai chi for seniors.