Decorating Your Senior Apartment? Use These Popular Paint Colors in 2020.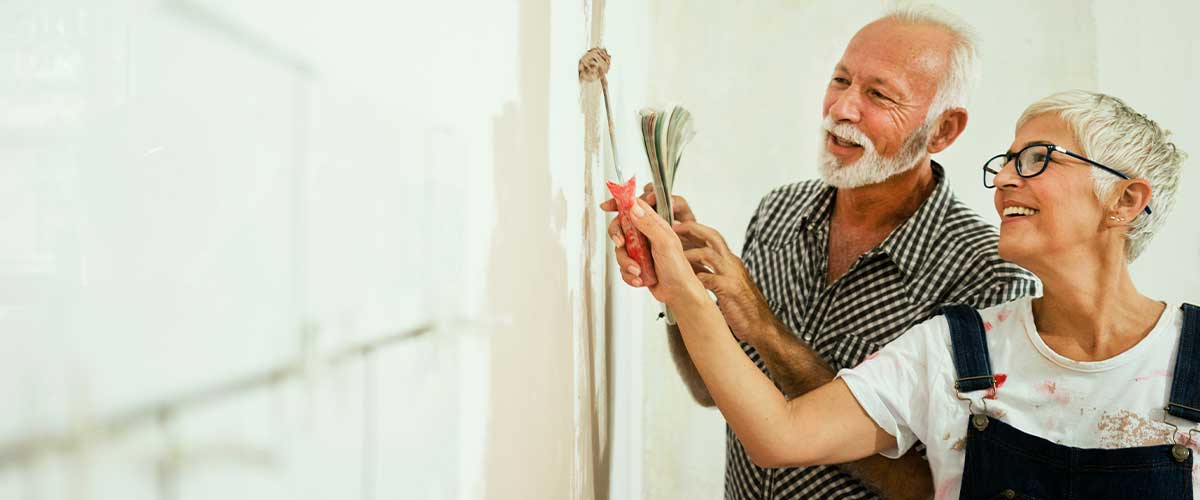 Do you want your new senior apartment to be an enchanting kaleidoscope or a serene retreat? You get to carve out your own oasis in the midst of an already beautiful senior living campus. Make it a place you're thrilled to call home. One of the best ways to accomplish that is with paint colors — well, colors in general, really. There are some exciting 2020 paint color trends interior designers are loving, but before we dive into specific colors, let's talk a little about color theory, so when you use your favorite colors, you can create the exact effect you want.
Color Temperature
You've likely heard people describe colors as "warm" or "cool." Selecting a palette of warm or cool tones can have a big impact on the overall impact of your rooms. Warm colors — red, orange, yellow — look as though they're coming toward you and can make a big space seem cozier, or they can make a small space feel a bit claustrophobic. Cool colors — blue, green, purple — visually recede, which can make small rooms feel more airy or large rooms seem cavernous.Warm colors make a space feel vibrant, active and cozy. Cool colors tend to create a sense of calm and relaxation. You may select your paint colors based on how you want to feel in each room.
The 60-30-10 Rule
When deciding which colors to feature in a room, a great rule of thumb is that you should include three colors. The first color — your main color — covers the walls and large accent pieces like your sofa or an area rug, accounting for 60% of the visual space. The second color will only represent about 30% of the color ratio. You could select your curtains, chairs or painted furniture in this secondary color. With the last 10%, you'll add an accent color with throw pillows, artwork and decorations.
Monochrome
Monochromatic rooms are built around a single color, bringing in varying tints and shades. When executed artfully, this style is anything but monotonous. You can add variety with different textures and tones. It's a daring strategy, but it can create delightful drama.
Five 2020 Paint Color Trends to Include in Your Design
Classic Blue
This year's Pantone Color of the Year is a stalwart favorite that instills "calm, confidence and connection," according to the brand's website. You can use this paint color subtly for a classic look, or select it as your main color for a bold statement. With a peaceful color like classic blue, you can even make a monochrome room and create a tranquil, restorative space.
Blush Pink
This fun, feminine paint color has been popular for a while and looks as if it isn't going anywhere soon. Blush offers a soft, fresh look for a room and is neutral enough to mix well with a wide range of other colors.
Forest Green
Not for the faint of heart, forest green provides a natural beauty to any room. Pair it with a light secondary color and a bold accent to create a timeless look.
White
This time-honored classic is experiencing a renaissance. White-on-white rooms are only becoming more popular. They create a calm atmosphere while setting the perfect neutral backdrop for any accent color.
Clay
Create a cozy retreat with clay-colored walls. This warm tone makes a room feel earthy, and its style can swing effortlessly from rustic to contemporary.Your senior apartment should reflect your taste and personality. Inject as much fun and youth as you like. Each floor plan at Freedom Square provides its own unique opportunity to design your perfect home base. They're all just waiting for your personal touch.To find out more about the various floor plans at Freedom Square and the customization options for each residence, let us know. A member of our team would be happy to provide more information.