How to Elevate the Look of Your 1 Bedroom Apartment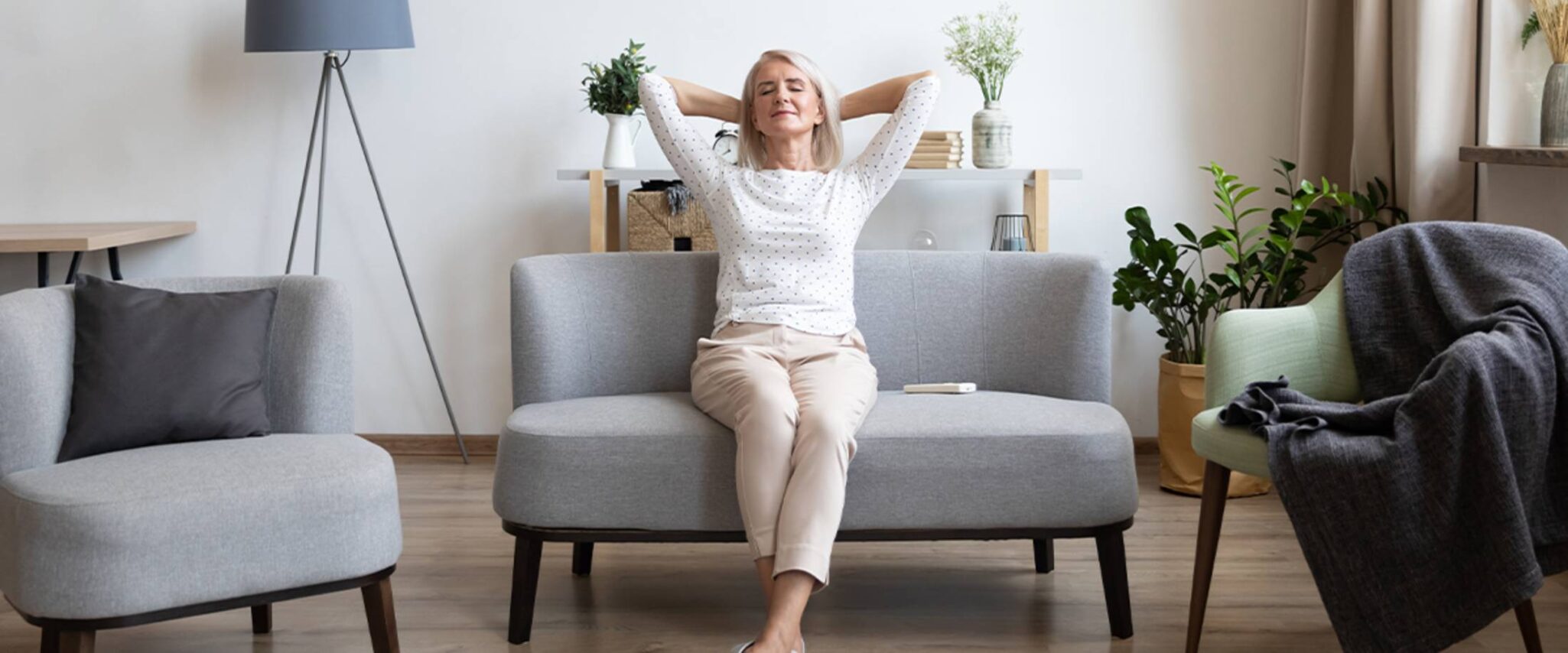 When your definition of "home" spans multiple bedrooms and expansive living spaces, figuring out how to decorate a one-bedroom apartment for maximum function and comfort may seem like a daunting challenge. Actually, with some clever design and thoughtful planning, decorating small rooms in senior apartments can be quite a bit of fun, and your own personal touches can make the spaces cozy, comfortable and enjoyable.Start planning how to decorate a one-bedroom apartment that you'll be proud to call home and get inspired with these ideas for sensational senior living spaces.
Use decor to establish distinct areas.
You may be surprised by how many different functional areas you can create in a modest apartment. The secret to success is forgetting labels like "bedroom" or "living room" and instead thinking about how you want to use the spaces. For example, if you need a place to savor your favorite novels, all you need to make it happen is a well-lit corner with wall space for a bookshelf and room for a chair you can curl into for hours. Similarly, a craft or office area can easily be integrated into just a few square feet of space. Visual cues in your design and furnishings can set one area away from the next. Even minor shifts in the color of the walls, textiles and decor will differentiate spaces. Too much color in a small room can be garish, but if you work within a palette and emphasize certain hues in select areas, you'll be able to distinguish one zone from another while creating an inviting and cohesive space.In addition to intentional apartment decor, furnishings can serve as physical dividers to set clear boundaries. For example, an airy bookshelf might set off a reading nook or office while providing plenty of practical storage. Rugs can also create definition between one space and another.
Select furniture that fits.
Speaking of furniture, this is a variable that can make a senior living space go from feeling spacious to cramped in an instant. It's important to choose pieces that won't add any unnecessary bulk. This might mean forgoing the full-size sofa for a loveseat or even a couple of over-sized snugglers. Beyond the number of pieces you select, also give care to selecting styles with slim designs. You may even be able to fit a sizable item like a sectional sofa if you choose a silhouette that is appropriate for the space. When planning the furnishings for a senior apartment, give thought to the number of guests you expect to host at one time. Plan seating for the crowd you expect to see most often, and then consider supplementary options for infrequent occasions when a larger group may gather. You might opt for a coffee table with stools nested below, or a stylish row of footstools arranged below a focal point like a floating media center and TV.  If you anticipate eating alone most often, you may prefer to skip the dining table altogether and instead select a coffee table with a top that raises, so you can enjoy your meals from the comfort of your living room.
Rely on functional storage.
Clutter can quickly make a modest apartment feel smaller, so when you're decorating small spaces, it's always a good idea to keep storage in mind. When space is at a premium, storage that serves dual purposes is especially useful.  In a senior apartment, a storage bench near the front door is a great choice for functional storage. The bench provides a spot for you to comfortably sit while you put on or remove your shoes, and the storage cubbies below can be used for shoes and items like scarves, mittens or umbrellas that are handy to grab as you head out the door. There are plenty of creative ways to get extra use out of other furnishings, as well, such as tucking extra linens into the drawers of your TV stand or adding some baskets under end tables to hold items you want in easy reach, like throw blankets, magazines or knitting supplies.
Use vertical space to expand your footprint.
The floor space may dictate some aspects of your design but looking up — literally — is a smart way to improve your small apartment decor. The wall is prime for terrific pieces of art, but you can also add great function by thinking of the walls as an extension of your overall square footage.A collection of baskets attached to the wall can hold any number of items, from utensils and gadgets in the kitchen to your keys and sunglasses near the front door. Another option is floating shelves, which you can use solo or in a grouping to add some whimsical flair; just keep safety and aesthetics in mind and avoid overfilling the shelves. In addition to storage space, shelves are ideal for displaying personal treasures like photographs and beloved keepsakes that add some of your own personality to the room.If you have a collection of items you won't use often but can't bear to part with, one often overlooked spot is the ceiling. A row of storage cabinets at ceiling level can introduce an attractive design element that won't interfere with your everyday space while significantly expanding your apartment's storage capacity.
Become a master of illusion.
A room doesn't have to be physically large to look airy and spacious. Incorporating certain design tricks will give your space the appearance of a bigger space that feels more open and inviting. After all, how a room makes you feel is what matters most. A large mirror with a stylish frame that complements your design can not only add color and sophistication to a room, but it also bounces light to add depth and brighten the space. Another trick designers love: Hang extra-long curtains at or near the ceiling. This gives the illusion of extra height and draws the eyes upward, away from the cozy quarters at floor level.
Embrace natural light.
Cheerful light is a must when you're decorating small rooms in senior apartments. Although you'll likely want to use window treatments for privacy at night, during the day, throw them open and let the natural light enhance your space with its warm, welcoming ambiance. Remember that even when open, heavy drapes can weigh down a room, so choose coverings with a lighter texture to make the most of those vibrant rays. Depending on how many windows you have and how they're oriented to the sun, you may need to supplement with fixtures. Forgo floor and tabletop lamps for wall-mounted fixtures, and you'll add the ambient light you need while keeping those surfaces free for other uses. 
Incorporate outdoor spaces.
If you're fortunate enough to find senior living apartments with patios or balconies available, be sure to use that space. Rather than treating it as separate from the rest of your living quarters, think of it as an extension of your usable square footage.Especially if you live in a climate where you can enjoy the outdoors most of the year, put the lanai on your decorating "must" list. Start with practical considerations like shades or fans to keep the space comfortable, and then start customizing for your own personal needs. Add planters if you enjoy tending to flowers or a small raised garden for fresh produce and herbs. You might also consider adding an end table with a built-in ice reservoir for keeping wine chilled while you relax at sunset. 
Put awkward architectural features to work.
One common challenge that can arise when you're considering how to decorate small spaces is the architectural elements that you have to design around, like small alcoves or jutting columns. Treat these as opportunities to infuse some character and charm into your space. A small nook might be the perfect spot to add some shelves and install a custom built-in desk, or it may be just right for a chair that adds extra seating for guests. A wall or column that stands out can easily become a focal point that you celebrate with an accent color of paint and a piece of sentimental artwork. 
Let plenty of you shine through.
Ultimately, you are the expert in how to decorate a one-bedroom apartment because the home is all yours. Incorporating design and style tricks can help make the most of the space, but infusing your tastes and style along with the mementoes and keepsakes that you hold dear will ensure your new senior apartment is just right for you.At Freedom Square of Seminole, we know that moving from the home you've lived in for years can be a big step. Our spacious floor plans are beautifully designed and ready for you to add your own personal touch by choosing your favorite flooring and paint colors. From bright, sunny interiors and fully equipped kitchens to a 24-hour emergency response system, you'll find plenty of reasons to feel right at home. Discover more reasons our residents make Freedom Square their choice for retirement living.